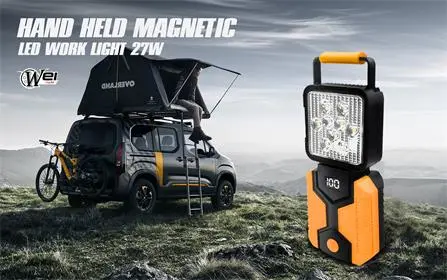 We'd like to introduce this unique portable magnetic LED work light, our own private housing.
Features
1.Portable cordless rechargeable work light.
2.With charger for household, camping, hiking, repairing, construction site.
3.Long Durability: dust resistant and splash-proof protection rating of IP65 allows use in rain and wet conditions.
4.The heavy-duty cast-aluminum frame meets stringent impact drop testing standards. 
5.The product has excellent heat dissipation due to the aluminum case and the multi-fin heat sink design of the back cover
Specifications:
1. LED Power: 27W
2. Light Output: 1800Lumens
3. Material: Aluminum alloy Housing, PC lens
4. Waterproof Rate: IP65
5. Color Temperature: 6000K
6. Beam: flood or spot optional
7. With 6Pcs 18650 rechargeable Li-ion battery, 2000Mah/Pc
8. With 3 light patterns: 100 bright, 50% bright and SOS
9. With the LCD intelligently displays battery power
10. With car charger and home charger
11. With ¢18*5MM galvanized rare earth NdFeB strong magnet N35 base,
the maximum surface magnetic force is 2900GS